Planning a corporate event? It can seem overwhelming no matter how big or small the event may be. We have lots of experience planning corporate events and want to help you with the process.
Here's a Corporate Event Planning Checklist to help you stay organized and on track! The checklist has blank spaces for you to customize to your event.
Click the Image Below to Download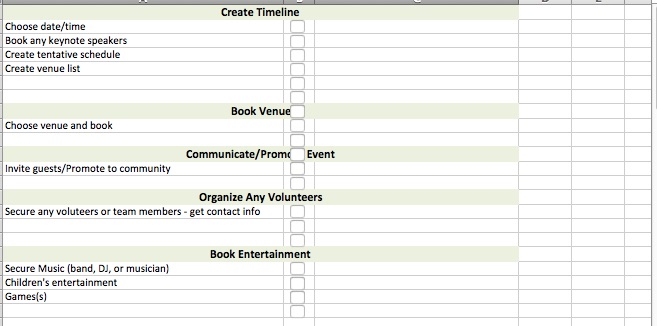 Create Your Timeline
Choose the date and time of the event. Consider any keynote speakers or entertainment. After that it's time to create your tentative schedule of events and create a list of venues to consider.
Book Your Venue
After reviewing venue choices, it's time to choose the best one! This can be the most difficult to find the perfect venue so take your time and be sure to ask lots of questions.
Organize Any Volunteers
If you need volunteers for your event, it's time to find and organize them. Be sure to gather all contact information so you're able to communicate with them.
Communicate and Promote Event
Communicate events to guests and/or community. If promoting your event, start promoting early to gather lots of attention.
Book Entertainment
Book entertainment for your event. Secure keynote speakers, music, children's entertainment, etc. Choose any additional entertainment for your event. If this is a large event, this is something you can delegate.
Choose Food and/or Drink
Choose the food and drink for your event. This is something else you can delegate if necessary. Be sure to consider mealtimes and dietary needs.
Secure Rentals
Book any rentals you may need for your event such as chairs, tables, tablecloths, decor, etc. Arrange for any setup or tear down either with your vendor or the volunteers.
Create Any Signage
Gather and/or create any signage you will need for your event. Create and order any printed materials.
Confirm Timeline
Confirm timeline and communicate to volunteers expectations. Finalize any details with vendors and volunteers.
Enjoy Your Event!